How to Install
If you are running Windows 8, 8.1 or 10, and if Windows Sidebar is missing from your system, click here to learn how to get Windows Sidebar. This gadget requires the Windows Sidebar component in Microsoft Windows.
Once you have confirmed Windows Sidebar is installed on your PC...
Click the download button on the homepage.
Once the file "WNEP_Weather.gadget" has downloaded, open it.
When a box appears, click Open.
Once the next box appears, click Install
The gadget should now open automatically on your desktop.
Tip: If the gadget does not open automatically, right-click any empty space on your desktop to access the Gadget Gallery. Locate the WNEP Weather gadget, and double click it to open it.
Tip: You can refresh the weather information at any time by clicking the "Refresh" button.
Tip: You can drag the gadget to any location on your desktop by clicking the top bar or side grab button on the gadget (outlined below)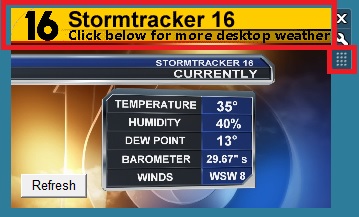 ---
---